The Orange seemed stunk in a season long slump with their three point shooting, with a 20.9% accuracy for the season. The Syracuse team has not been shy about shooting beyond the arc, having taken 129 shots over the first 8 games, an average of 16 a game. Unfortunately, they are making about 3.3 a game.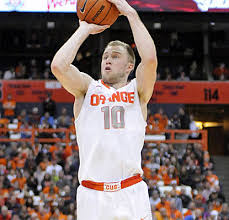 Trevor Cooney
has been the lightning rod for the most criticism. In part that is fair, as he is a junior, one of the most seasoned players on the team, and came to Syracuse with a reputation of being a perimeter shooter. His bombing of Notre Dame last season showed he could do it when he lit up the Fighting Irish for 9 three point baskets on 12 attempts on his way to a 33 point night. Cooney has hit only 13 of 46 attempts this season, for a success rate of 28.3%.
Cooney is, however, the best three point shooter on the team. I am not just talking from a observation perspective. Statistically, his 28.3% is the best on the team... and by a large margin. Here is the rest of the crew:
B.J. Johnson: 5 of 23 for 21.7%
Kaleb Joseph: 3 of 14 for 21.4%
Michael Gbinje: 3 of 21 for 14.3%
Ron Patterson: 2 of 18 for 11.1%
As a group, that foursome is 13 of 76 for 17.1%.
All hope should not be lost. It is highly unlikely that the Orange as a team are that bad at shooting the three, and things should come around.
To give some perspective of how bad those five were as three point shooters, consider that
Stephen Thompson
, one of the all time great Orangemen, but a horrendous three point shooter, is only 9th worst at 30.3% (26 of 86). So the five worst shooters are pretty bad.
Right now, ALL five Syracuse perimeter shooters would be worse than #5 Josh Wright, and four would be worst than Paul 'I couldn't hit the broadside of a barn' Harris. So unless Jim Boeheim coincidentally recruited the five worst shooters in Syracuse history at the same time, it is highly unlikely the shooting performance is indicative of their actual ability.
Trevor Cooney is an enigma. He is a 34% career shooter, and has been a disappointment for all three seasons, with high expectations based on Boeheim's comments about his ability. Opposing defenses are keying on him, but even when he gets open, his shot is not falling.
We would expect the Orange shooting to start to regress to the mean at some point. They aren't likely to ever be a great perimeter shooting team, but they should be in the 30-33% range, at a minimum. Just keep taking the shots.
Or, perhaps give walk-on
Carter Sanderson
more playing time (playfully said). Sanderson is a graduate student at Syracuse, and is on the team because he still had a year of eligibility left after completing his undergraduate work at Lipscomb University. Sanderson made 32.4% of his three point shots at Lipscomb, 55 of 170.
Anyhow, there will be a brighter future in the team's shooting. I just hope it is sooner than later.