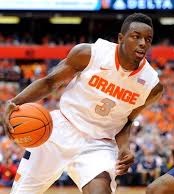 That would have provided a front line with a lot of length, quickness and vertical space, perfect for Jim Boeheim's zone defense. Grant was improving offensively last season, and with the improved offensive skills for Christmas plus the arrival of McCullough, there would have been a lot of ability to score up front. It would get crowded at times, but I think McCullough would have been comfortable drifting a little further away from the hoop. Plus, with the foul trouble Christmas has had each game, there definitely could never be too much depth up front.
The presence of Grant would not help the perimeter situation; with the exception of Cooney who draws a lot of defensive attention, most of the perimeter players are seeing good three point opportunities frequently. But I think the addition of Grant on the back line would allow for more steals and force turnovers, and that would improve the fastbreak opportunities.
I had mentioned back in June that I thought it was a
mistake for Grant to leave early
. I believe he left a lot of money on the table. I would imagine that his family is not in dire financial need, as his father is former NBA player Harvey Grant. Another year of college would have given him more time to improve his draft stock and more playing time per game to work on his skills.
An early season injury hampered Grant's start this year in the NBA. He is healthy now, and playing for the worst team in the NBA in the Philadelphia 76'ers (and one of the worst in NBA history). He's playing 9-12 minutes a night, which isn't bad... but he could be playing 35+ minutes for Syracuse. And again, I'll go back to my original statement... it's all about the money. He was worth more if he stayed.
I wish I could argue that
Tyler Ennis
should have stayed. Without a doubt he would be helping the Orange out early this season. He would bring in another perimeter shooter, and he would run the offense, and let
Kaleb Joseph
mature and learn. Ennis did tend to have a tendency to play it safe too much, and I think he missed opportunities to push the ball, but the results last year were pretty good.
Financially, Ennis made the right move. He is not getting the playing time, but he is getting the practice time. He definitely would have improved with more playing time at Syracuse, but his draft stock wasn't going to change significantly in my opinion.