Last losing seasons for teams:
Kansas 13-16 in 1982-83, 13-14 in 1981-1982.
Kentucky 14-14 in 1989-90, 13-19 in 1988-1989
Duke 13-18 in 1994-1995, followed by 18-13 in 1995-96
Georgetown 14-18 last year, 15-18 in 2015-16
UConn 16-17 last year
Villanova 13-19 in 2011-12


UCLA

15-17 in 2015-16
Pitt 16-17 last year
North Carolina 8-20 in 2001-02
Louisville 12-19 in 2000-01
Indiana 6-25 in 2008-09, 10-21 in 2009-10, 12-20 in 2010-11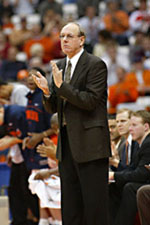 Jim Boeheim
Jim Boeheim: 0 losing season in 41 years, despite always playing in one of the top two toughest conferences in the country. Never worse than 7-9 in conference play (only two losing conference records).
Some fans keep screaming the "the sky is falling, the sky is falling" because the Orange went 19-15 last season, and only 23-14 (and a Final Four) in 2015-2016. They have been two tough seasons for the Orange faithful, though as illustrated earlier, those trying seasons are much better than other teams have experienced in the past years.
The NCAA levied the harshest scholarship reduction penalties in NCAA basketball history on Syracuse, with the intent being to punish the team and hurt its performance on the court. Despite those penalties, the Orange have still continued to win.
If the Orange are still struggling in 2-3 seasons, after the penalties have been lifted, then we can fairly discuss whether the program is on the decline. It simply is not possible at this point in time to make any judgement. If fact, the evidence would suggest the program is doing quite well in spite of all that has occurred.