Sunday, February 22, 2015
Wednesday, February 11, 2015
The Syracuse win over Boston College was an enjoyable game, and different than what Orange fans have become accustomed to. Syracuse has not had too many walk-away wins this year, and this game really was never in doubt over the last 6-7 minutes with the Orange winning 70-56.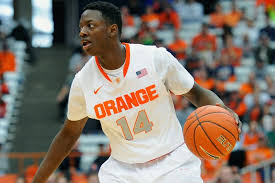 The game did have a historical perspective to it. The win moves the Orange record to 16-8 for the year, and with only seven games left on the schedule because of the post-season ban, it guarantees the Orange another winning season.
We take winning for granted in Syracuse, as the Orange have not had a losing season since
1968-1969
when the team went 8-16. That is 46 seasons of winning basketball. The school has only had sixteen losing seasons ever, and the program started in 1900-1901. I am not sure which basketball program has the longest streak right now for consecutive winning seasons, but 46 is very impressive.
For perspective, remember that Duke, one of the best programs out there, had a losing season in 1994-1995. Mike Krzyzewski also had losing seasons in 1981-1982 and 1982-1983 with Duke. Kansas was 13-16 in 1982-1983. North Carolina was 8-20 in 2001-2002. Georgetown was 13-15 in 2003-2004. UConn was 9-19 in 1986-1987. Kentucky was 13-19 in 1988-1989.
Kaleb Joseph
had a coming out party tonight! He was aggressive to the hoop, and went 7 for 7 from the floor for 14 points. Welcome Kaleb!
B.J. Johnson
also got some significant playing time and made some three point shots. He hit four of twelve, on his way for 12 points for the night. That shooting is not going to break any records, but considering how poorly he has been shooting, that was very nice to see.
Michael Gbinije
continues to play at a very high level. 8 of 11 from the floor for 21 points, coupled with 7 rebounds and 4 assists. Gbinije has been extremely impressive as of late.
Rak Christmas
was handcuffed tonight by several double and triple teams, and he ended up with only 7 points, though he did get 10 rebounds and 3 nice blocks.
Let's go Orange!
Posted by

OrangeRay
at 9:26 PM
No comments:
Links to this post


Wednesday, February 04, 2015
Syracuse University announced today that it is self-imposing a ban on all post season activity for its men's basketball program for this year. The ban includes the NCAA, NIT and the ACC tournament.
It is a shame that the current roster of players has to suffer for the misdeeds done in the past. I do not know all the details of this particular investigation, though I have been flustered by what I already know. Syracuse self-reported academic violations by Feb Melo and James Southerland at the time they occurred. Melo was suspended first by the university and then later in the season by the NCAA. The Melo suspension in 2012 was extremely impactful on the Orange as the team was ranked #2 in the country, and one of the top favorites to win the tourney. Without Melo they were talented enough to make a run to the Elite Eight.
Part of me feels like there is double jeopardy in this situation. The punishment was handed out, and the program suffered at the time.
Again, there are probably more issues at hand than what I am aware of. I will be curious to see what those may be.
The self-imposed ban from the ACC tournament seems excessive. When Syracuse was banned in 1993 by the NCAA, it was still permitted to play in the Big East Tournament. So the Syracuse administration is dolling out a very stiff penalty on itself.
The move is definitely self-serving by the university; I am not naive to that. This year's team was not going to have a strong post season, and they are hoping that sacrificing this year will allow the team not to be impacted for next year, nor have any lingering impact on recruiting. The 1992-1993 ban took a couple of years to get announced, and there were recruits the Orangemen lost as a result.
I do find the NCAA to be a capricious and inconsistent organization. There does not seem to be any predictable pattern to penalties they dole out, nor which institutions get investigated in the first place. It seems clear that some programs are cheating academically because practically it seems illogical that they types of players that revolve through their program could not possible maintain proper academic standing, yet they do.
Anyhow, good luck to the Orange on their remaining nine games this year. Particularly sad is the relevance to Rakeem Christmas, who is having a tremendous senior season, and will have no opportunity to showcase his talents. The greatest irony being that Christmas is one of the best student athletes Syracuse has ever had, completing his four year degree in only three years (no redshirt year).
Posted by

OrangeRay
at 6:50 PM
No comments:
Links to this post