For at least one night,
Trevor Cooney
did a very good Gerry McNamara impression. I am not referring to his three point shooting, though he was 4 for 8 from three point range. I am talking about how all the elements of the game against Louisiana Tech were similar to GMac.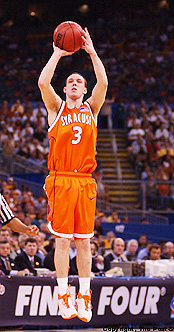 Gerry McNamara
was a terrific shooter out of Bishop Hannon High School in Scranton. Shortly before the 2002-2003 season began, Syracuse's projected starting point guard Billy Edelin found out he was ineligible for the first 12 games of the season. McNamara assumed that role, and became the de facto point guard for the Orangemen.
McNamara would drive to the hoop, he would get the ball into the Carmelo Anthony, and let Anthony make the play, or get himself open so that Anthony could kick it back out. McNamara had a knack for jumping the lane and getting the necessary steals. During the closing minutes of close games, McNamara would hold run the clock down, often forcing opposing teams to foul him so that he could got to the free throw line with his 90% accuracy and seal the game.
Trevor Cooney played that type of game against the Bulldogs earlier today. The 25 point effort and the four of eight three point shooting are the obvious highlights. The three steals and the 5 of 5 from the free throw line were critical. Cooney brought the ball up the court during most of the games crunch time, taking the pressure off of freshman
Kaleb Joseph
, who struggled with eight turnovers.
Cooney had no turnovers. He demonstrated leadership on the court, provided a steady hand, and was the vocal encouragement on the court.
There were some mistakes in the evening for sure. And the Orange still had to come down to the wire to win the game.
But for one night this season, I felt like I was watching Gerry McNamara on the court. And that was a nice thing.