On a night when
Trevor Cooney
blistered Florida State for 28 points and the Orange moved to 3-0 in ACC, there was not too much joy as freshman Chris McCullough injured his knee.
News today is the McCullough
has torn his ACL
and will miss the rest of this season.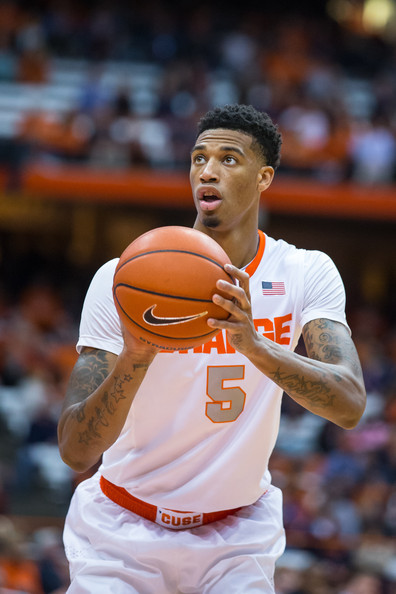 The Orange will move on without McCullough, and all is not loss, as basketball is a team game. But this is highly damaging for a team already thin in the front line.
DuJuan Coleman
is out for the entire year, and
Chino Obokoh
is the only reserve 'big' man the Orange have.
The Orange need
Rakeem Christmas
to continue to play aggressive, but when he gets winded or in foul trouble, it will be tough to replace him. Obokoh had four fouls in the Florida State game in just over five minutes of play, so you have got to believe he has a lot of work cut out for him.
Tyler Roberson
can help replace McCullough, and Roberson is more of a natural power forward, so this should help Roberson. But you do not replace 6'10" athletic players easily and that is what McCullough brought to the court. He may have been struggling, but he was still a factor on the court.
B.J. Johnson
is going to need to come back from purgatory, and start to play. He was rebounding well earlier in the season, but his shooting was horrendous and his defensive play in the zone was lacking. Jim Boeheim will play a player who plays defense but is struggling offensively, but he does not like to play a guy who creates a problem in the zone defense.
The Orange are going to need Johnson and Obokoh to start to develop. The perimeter with Cooney, Mike Gbinije, Kaleb Joseph and Ron Patterson will be fine. And Christmas is playing like an All-American. Let's see which Orangeman will help him out.
The timing for when McCullough can return next year will be interesting. Conventional timing indicates it takes about a year for a repaired ACL to heal. Some players do have a faster time line.
Andy Rautins
tore his ACL, and missed an entire season. The upside for Rautins was that he hit the gym hard, added twenty pounds of muscle, and came back a much stronger and better player. Hopefully McCullough's surgery goes well, and he can have the same success Rautins had with his rehab.