Rakeem Christmas
had a career night against Wake Forest, leading Syracuse to a 86-83 overtime win over the Demon Deacons. Christmas scored 35 points and had 9 rebounds for the game.
Christmas simply overwhelmed Wake Forest for most of the game, on both sides of the court. Though he ended up with only one blocked shot, he altered several other shots by Wake Forest. Offensively, the Demon Deacons just could not match up to Christmas as he made 12 of 23 shots.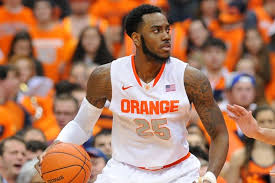 Rakeem Christmas
Christmas' 35 points were the
most points by an Syracuse player
since
James Southerland
scored 35 against Arkansas in November 2012. This was the best scoring effort by a Syracuse inside big man since
Hakim Warrick
scored 36 points back in 2005. The last Syracuse center to score over 30 points in a game was
Otis Hill
back in 1997 with 34 points against Alabama. The last Syracuse center to score 35 or more points in a game was
Bill Smith
, back in 1971, when he set the school record with
47 points in a game
.
Christmas had four fouls with about six minutes to go in regulation, and he managed to stay in the remainder of the game and all of the overtime period. He gave up the defensive baskets rather than foul out, and that was crucial as he was the Orange's best scoring threat from the field and from the free throw line.
It will be interesting to see how this season plays out for Christmas. He continues to amaze me each night with the immense improvement in his game. He is so much more fluid offensively than in the past, and is extremely aggressive around the hoop. The fact that he consistently faces a double team just makes it more amazing.