44 years ago today, on January 14th, 1971,
Bill Smith
set the Syracuse single game scoring record with 47 points against Lafayette. The closest any Orangeman has come to breaking that record was when Gerry McNamara lit up Brigham Young for
43 points
in the 2004 NCAA tournament.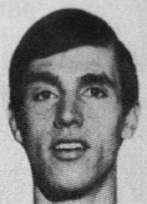 Bill Smith
Smith was a fiery tempered center who once
punched a referee
. He was an excellent rebounder and a terrific inside scorer. At 6'11" he was the biggest center Syracuse had up to that point in time. Smith would average 20.9 points and 14.5 rebounds per game for his career.
On January 12th, 1971 he had
28 points and 30 rebounds
in a victory over American University. That was only the appetizer to his big night. Two days later, Smith would score
47 points
in a 106-92 win over Lafayette.
It was a shootout of the big scorers for both teams. Tracy Tripucka, brother of NBA star Kelly Tripucka, would score 41 points for Lafayette. Smith would have 27 points at halftime; Tripucka 26.
But the spoils would go to Smith who shot 17 of 23 from the floor, and 13 of 19 from the free throw line. Smith would also have 19 rebounds in the contest.
Greg Kohls also had a big night for the Orangemen with 24 points, but all accolades on that evening go to Mr. Smith.