Who was the best basketball player ever to play for the Syracuse Orange? I am not referring to their entire career, but rather their peak year, how good of a player did they become while an Orangeman? I am not talking about potentially how good they could have been, but rather what they did show to us.
I am going to restrict this to players I saw play. Dave Bing who played his last game for the Orangemen a couple of months before I was born is therefore excluded.
I do not mean which player had the greatest season ever for the Orangemen. That would clearly be Carmelo Anthony. Anthony was the best player on the only Syracuse team to win the NCAA National Championship.
I think John Wallace was clearly the most valuable player ever for the Orangemen. Wallace carried the Orangemen to the brink of the 1996 National Championship with no teammate named to any All Big East teams that year.
I think Lawrence Moten has the highest basketball IQ of any Orangemen I ever saw play. He was so smooth staying within the flow of the game, and would effortlessly and often quietly score 20 points.
I think Pearl Washington was the most significant player in Orangemen history. He brought recognition to Syracuse University at a National level, helping the Orange be a national power.
I can also state that my five all-time favorite Orangemen, chronologically, are Rafael Addison, Stephen Thompson, Lawrence Moten, Gerry McNamara, and Andy Rautins.
Who do I think were the five best players for the Orangemen?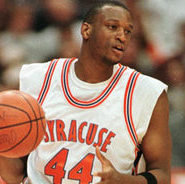 Fifth: John Wallace. Wallace as a senior carried the Orangemen to the National Championship game, averaging 22.2 points per game (ppg), and 8.7 rebounds per game (rpg). He shot 42% from three point range, the best on the team, even outshooting, percentage wise, the team's three point specialist Marius Janulis (41.6% to John's 42.1%). He would lead the team in scoring by 9.5 ppg, and would score 30+ points five times, and led the team in scoring 30 of the 38 games played. Wallace played strong defense, leading the team with 63 blocks, and also had 44 steals. He played exceptionally well in the NCAA tournament, leading the team in scoring all six games, including a great 30 point effort against Georgia, and a 29 point effort in the championship game. The Orangemen were only down by four points in the Championship game to a much more talented Kentucky team, when Wallace fouled out with about 2 minutes to go.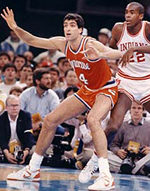 Rony Seikaly
Fourth: Rony Seikaly. Seikaly came to Syracuse as a raw recruit with a flabby body and poor basketball skills. He developed into an outstanding collegiate center, with a nice turnaround jump shot, and great defensive skills. Seikaly really came into his own during the NCAA tournament his junior year. Seikaly would have a dominating game against Florida's highly touted Duane Schintzius, scoring 33. Seikaly kept that playing level going as the Orangemen upset North Carolina and eventually got to the NCAA finals, before losing to Indiana. Seikaly performed at that level most of his senior year averaging 16.3 ppg, 9.6 rpg, along with 85 blocked shots. He shot 57% from the floor, and was great at running the court both on offense and defense. The team was loaded with scoring talent with Sherman Douglas, Matt Roe, Stephen Thompson and Derrick Coleman in the lineup, and yet Seikaly led the team in scoring primarily with his low post moves. The Orangemen would win the Big East Championship but lose in the NCAA tournament to Rhode Island when Douglas was off his game due to illness. Seikaly scored 27 points and had 10 rebounds in that loss.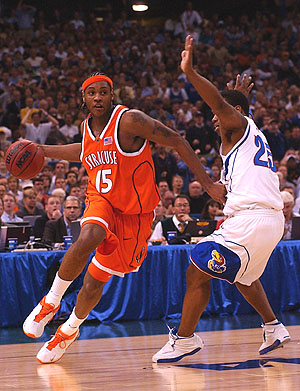 Carmelo Anthony
Third: Carmelo Anthony. I know I'm going to take flak from several Orange fans for this selection, as they think he was number one. Anthony was without a doubt one of the most gifted basketball players in SU history. As a freshman, and his only season with Syracuse, he displayed a wide array of offensive skills. He was adept at scoring from the post, driving the lane, and pulling up from perimeter, making 34% of his three point shots. He displayed an A-Type personality and was eager to be the man with the ball, and did well in that position. He would lead the team in scoring 24 of the 35 games they played, scoring 30+ points three times. The biggest performance of his career came in the Final Four where Anthony made 12 of 19 shots for 33 points, with extremely stellar play, to dominate Texas and lead the Orangemen to the championship game. Anthony would score 20 points, with 10 rebounds and 7 assists in the Championship game, leading all scorers, as the Orangemen won their first National Championship.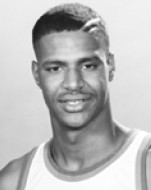 Billy Owens
Second: Billy Owens. Owens was simply dominating his junior year at Syracuse. Derrick Coleman and Stephen Thompson had graduated, and Owens stepped up to fill the void scoring 23.2 ppg, with 11.6 rpg and 3.5 assists per game (apg). He shot 39% from three point range, and 51% from the floor overall. He was offensively a dominating player inside and outside. Defensively he led the team with 78 steals, and led the team in scoring 21 of the 32 games played. In his career he had 8 games with 30+ points, and ten games with 15+ rebounds. He led the team to a Big East regular season title, and a 26-4 record with a #6 ranking. There were hopes that he could carry SU to a national title like Danny Manning had done with Kansas in 1988. Inexplicably the team crashed in the post season, losing its first round of the Big East tournament to Villanova, despite 17 points and 22 rebounds from Owens. They would then get upset by Richmond in the first round of the NCAA despite 22 points from Owens.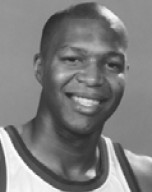 Derrick Coleman
First: Derrick Coleman. Derrick Coleman was a tremendously gifted 6'10" forward who could dominate players inside and also score from the perimeter, in an era where big men did not do that. Coleman was the greatest rebounder in SU and NCAA history, with a NCAA record 1,537 rebounds. He averaged 12.1 rpg his senior year, despite having to share rebounds with Billy Owens, Stephen Thompson and LeRon Ellis. He scored 17.9 ppg, essentially splitting the scoring duties with prolific scorers Owens (18.2 ppg) and Thompson (17.8 ppg). He shot 37% from three point range and 55% from the floor. Coleman had 51 steals and led the team with 67 blocks. The Orangemen would win the Big East regular season title despite having no real point guard play. They would reach a #4 ranking in the country, before losing in the Big East Finals to UConn, and then losing to Minnesota in the NCAA Sweet Sixteen. Coleman would be recognized for his stellar season by being the Big East Player of the Year, making the AP All American First team, and being drafted #1 overall in the NBA draft.
I know many want to argue Anthony over Coleman. They are of course, different style players. Anthony was definitely a better player as a freshman than Coleman was, though Coleman was the Big East Rookie of the Year, and he did pull down 19 rebounds in the National Championship game. But we are not comparing a freshman Anthony to a freshman Coleman. We are comparing a freshman Anthony to a senior Coleman.
Consider that Coleman had four collegiate seasons to master his game, Anthony just one. He was a 22 year old 6'10", 225 lb senior when he completed his senior year. Melo was a 6'8", 195 lb forward, 18 years old when he completed his freshman year.
Coleman was recognized as the top player in the country and his conference. Anthony didn't win the Big East Player of the Year (Troy Bell did), and was not an AP First Team All-American. I know some politics come into that, but Anthony did not make enough impression to overcome those politics.
Coleman played in an era where all talented players stayed 3-4 years in college. Guys like Patrick Ewing, Chris Mullin, Michael Jordan, Ralph Sampson, Billy Owens, Danny Manning, etc. all perfected their games in college. And Coleman had to play against players like that routinely. And he was able to succeed against them. Today, all those guys, including Coleman, would have been in the NBA after their freshman/sophomore years.
Anthony had his talented opposition to play against too. But those talented upper classmen that would have given him a battle were gone, already earning their millions in the NBA. There are guys who develop and by their fourth year are outstanding college players, guys like our own Michael Gbinije and Rakeem Christmas. But Coleman's era had those guys too… plus the superstars in college.
Freshman on average are better today than they were 20 years ago. But they aren't better than 21-22 year NBA superstars staying in college because that was the norm.
Anthony was a tremendous offensive threat, and fantastic at handling the ball, driving to the hoop. Coleman could handle the ball, but that wasn't his forte. But Coleman was much more dominating near the hoop than Anthony. He was bigger, stronger, and had a freakish arm length.
Coleman was the better defensive player. He played center his junior year and had 127 blocks, a school record until Etan Thomas broke it 9 years later. Anthony did his part in the zone defense, but he has never been known for his defensive prowess.
Anthony's 2003 squad reached a peak ranking of #11, and started the year unranked. Coleman's team got as high as #4.
Coleman's biggest issue was that at times he was indifferent on the court, specifically against lesser opponents and earlier in this career. Anthony's type A-personality never let him give up. Coleman often played with a snarl, whereas Anthony always with a smile. Coleman could be nasty on the court, whereas Anthony was more a quiet assassin and let his skills do the talking. D.C. gave coach Jim Boeheim a lot of headaches; I doubt Melo ever game coach one.
Some will argue that Melo's team won the championship and Coleman's did not. But do a flashback to both championship games the guys played in. Coleman missed a front end of a one-and-one in the final minute, and Keith Smart made a jump shot over Howard Triche resulting in the loss for Syracuse. Anthony missed a front end of a one-and-one in the final minute, and Michael Lee's jump shot is blocked by Hakim Warrick giving the win to Syracuse. If Triche block's Smart's shot, and Lee makes his shot, the results are swapped. Do you still consider Melo better than D.C. in that scenario? And your change in position is based on four players other than Melo and D.C. doing something?
I think if Melo stays in college for three years, definitely four, there is no comparison here. Melo at 22 was a much better basketball player than D.C. was at 22. But that Melo was not at Syracuse; he was in the NBA playing for Denver. And having watched both players play, Melo at 18 was not better than D.C. at 22.
It was tough to think through these selections. Without out a doubt Derrick Coleman, Billy Owens, Carmelo Anthony, Rony Seikaly and John Wallace were great college players. And no slight was intended to Pearl Washington, Sherman Douglas, Lawrence Moten, Wesley Johnson or Hakim Warrick.
Your thoughts?