John Gillon's
43 point effort against North Carolina State may have been the best shooting night for a player in Syracuse basketball history. You surely will not find too many efforts more outstanding. Add to the fact that the Orange needed all of Gillon's points to win the game, including his 3 pointer with 2 seconds to go to tie it up, and it was truly an amazing night.
There have been 61 Orangemen to score 30+ points in a game, and they have done it 182 times.
DaveBing
accomplished the feat 20 time,
Greg Kohls
14 and
Billy Owens
10 time. Eleven times a player has scored 40+ points in a game. Gillon's 43 point effort was the fourth most in school history.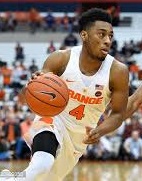 John Gillon III
There are players who have a higher shooting percentage from the floor when making 30+ points. Scoring a lot of points typically requires a combination of hot shooting AND taking a lot of shots. Of the 141 30+ point games that I have the shooting records for, the player shot 50% or better from the floor 119 times.
Rick Dean
had the best shooting night ever as the big guy went 13 for 13 from the floor in a win over Colgate back on February 14, 1966. Dean was also 4-5 from the free throw line that night giving him 30 points even.
Danny Schayes
was 11 for 13 in a win over Detroit in 1980, with another 11 for 13 from the line to give him 33 points.
Dave Bing
when 16 for 20 against Bowling Green back in December 1965. He also went 6-6 from the free throw line, to give himself 38 points. There was no three point line back then, and I have no record of where Bing shot from on the court, but clearly an outstanding shooting night.
Big Bill Smith
holds the school record for points in a game with 47. He hit 17 of 23 shots from the floor against Lafayette, plus 13 of 19 free throw attempts to get to 47. It was a big night for players on both teams as Tracy Tripucka scored 41 for Lafayette that night.
Gene Waldron
, on his surprise 40 point night against Iona, shot 13 for 17 from the floor, along with 14 for 16 from the free throw line. Waldron, like Bing, could have benefited from a three point shot that night.
Gerry McNamara
led the Orangemen to victory over BYU with 43 points in the NCAA tournament.
GMac was 11 for 17 from the floor, including 9 for 13 from three point range. A lifetime 90% free throw shooter, he had an off night at the line going only 12 for 16.
But Gillon's accuracy was amazing for the game. Four SU players have hit 9 three point shots in a game: Gillon,
Trevor Cooney
, McNamara, and
James Southerland
. The other three took 12 to 13 shots to get nine threes; Gillon did it on only 10 shots. Gillon was perfect from the free throw line at 14 for 14, and he was 10 for 13 from the floor overall. Over the course of the game, he made 24 of 27 the different types of shots he took. Simply amazing.
Some other odds and ends on the 30+ point efforts.
John Wallace
had the worst shooting night in reaching 30 points. Wallace was 9 for 25 against Notre Dame, along with 1 for 2 from three point range. His 13-14 from the free throw line helped a lot.
Carmelo Anthony
went 1-7 from three point range, and 12 for 29 from the floor, and 5-13 from the free throw line in scoring 30 points against Georgetown. Sometimes quantity is all that matters.
Hakim Warrick
was only 6 for 15 from the floor against Rhode Island in November 2003, but he was 18 for 22 from the free throw line.
Allen Griffin
may have had the most unusual 30+ point night against St. Johns in March 2001. Griffin made 5 of 9 field goals, including 3 of 5 from three point range. A good night shooting, but nothing spectacular. But he shot 18 for 22 from the free throw line. The result being he scored 31 points on only 9 field goal attempts.
Greg Kohls
went 17 for 17 from the free throw line in February 1972 against Fordham, as he got to 31 points for the night.
George Kirchgasser and Bob McDaniel did the difficult task of scoring 30+ points while neither attempted a free throw. Kirchgasser was the first Orangemen to score 30 points with a big effort over Jenners Prep in November 1904. Bob McDaniel went 18 for 23 from the floor against LaSalle, scoring 36 points in January 1970.