The Orange pulled the big upset over Duke last night, taking down the Blue Devils 64-62 for Syracuse's first win at Cameron Arena.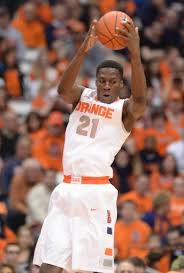 Tyler Roberson
was the most impressive player on the court, scoring 14 points and pulling down 20 rebounds, in the process setting an Cameron Arena record for most rebounds by an opposing player. Roberson also pulled down 12 offensive rebounds. He had help up front as Tyler Lydon had 9 rebounds of his own.
The Orange had a strange shooting anomaly for the game. The team shot 47.8% from three point range led by Trevor Cooney's 4 for 9. The shot only 37.5% from the free throw line, and they shot an abysmal 29% from inside the arc (two point range). Michael Gbinije and Roberson were a combined 15 of 26 from two point range. The rest of the team which was comprised of Cooney, Tyler Lydon, Malachi Richardson, DaJuan Coleman and Franklin Howard shot a horrendous 3 of 28 from the floor, or 10.7%!
The hidden gem in the game was the balanced scoring from the Orange. Four players led the team in scoring with 14 points a piece: Roberson, Gbinije, Cooney and Richardson.
That rarity has actually happened twice before in Syracuse basketball history.
On
December 14, 1982
, Syracuse beat Ohio State 91-85. Erich Santifer, Leo Rautins, Tony Bruin and Gene Waldron each scored 19 points while leading the Orangemen to victory.
The first time it occurred was
January 6, 1912
. Syracuse beat the University of Toronto 45-28. Sol Bloom, Walt Davey, Lew Castle, and Clarence Giles scored 8 points a piece to lead the Orange in scoring.