The Syracuse win over Boston College was an enjoyable game, and different than what Orange fans have become accustomed to. Syracuse has not had too many walk-away wins this year, and this game really was never in doubt over the last 6-7 minutes with the Orange winning 70-56.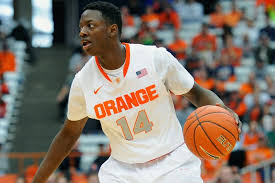 The game did have a historical perspective to it. The win moves the Orange record to 16-8 for the year, and with only seven games left on the schedule because of the post-season ban, it guarantees the Orange another winning season.
We take winning for granted in Syracuse, as the Orange have not had a losing season since
1968-1969
when the team went 8-16. That is 46 seasons of winning basketball. The school has only had sixteen losing seasons ever, and the program started in 1900-1901. I am not sure which basketball program has the longest streak right now for consecutive winning seasons, but 46 is very impressive.
For perspective, remember that Duke, one of the best programs out there, had a losing season in 1994-1995. Mike Krzyzewski also had losing seasons in 1981-1982 and 1982-1983 with Duke. Kansas was 13-16 in 1982-1983. North Carolina was 8-20 in 2001-2002. Georgetown was 13-15 in 2003-2004. UConn was 9-19 in 1986-1987. Kentucky was 13-19 in 1988-1989.
Kaleb Joseph
had a coming out party tonight! He was aggressive to the hoop, and went 7 for 7 from the floor for 14 points. Welcome Kaleb!
B.J. Johnson
also got some significant playing time and made some three point shots. He hit four of twelve, on his way for 12 points for the night. That shooting is not going to break any records, but considering how poorly he has been shooting, that was very nice to see.
Michael Gbinije
continues to play at a very high level. 8 of 11 from the floor for 21 points, coupled with 7 rebounds and 4 assists. Gbinije has been extremely impressive as of late.
Rak Christmas
was handcuffed tonight by several double and triple teams, and he ended up with only 7 points, though he did get 10 rebounds and 3 nice blocks.
Let's go Orange!