In 2007, OrangeHoops inducted its charter class into the OrangeHoops Hall of Fame:
Dave Bing
,
Derrick Coleman
,
Sherman Douglas
,
Vic Hanson
, and
Pearl Washington
. The next three years saw the addition of
Billy Owens
(2008),
Billy Gabor
(2009) and
Lawrence Moten
(2010). So the list now stands at 9. Another year has passed, and now it is time for the 2011 inductee.
I established my rules for the OrangeHoops Hall of Fame back in 2007 and you can catch up on them
here
. 2011 does have eight new eligible candidates (using the fifteen year rule):
John Wallace
,
Lazarus Sims
, J.B. Reafsnyder, David Patrick, Bobby Lazor, Elimu Nelson, Jim Hayes and Jim May. Wallace is a solid candidate, definitely one of the top Syracuse players of all time, and carried Syracuse his senior season to lofty heights. Sims was an outstanding point guard his senior season and helped lead the Orangemen to the National Championship game, but he was just a one year starter. Reafsnyder shared the center duties with Otis Hill, while Nelson, Hayes and May were bench players. Patrick and Lazor would both transfer to bigger and better things at other schools.

Castle was a two time All-American at Syracuse, and was captain and leading scorer of Syracuse's only undefeated team, the 1913-1914 squad that went 12-0.
Schwarzer was a two time All-American, and was captain and leading scorer of the 1917-1918 squad that went 16-1 and was retroactively named the National Champions by the Helms Foundation.
Lew Andreas coached Syracuse basketball for 27 seasons, including the 19-1 1925-1926 squad that was awarded the Helms Foundation National Championship. He had a career record of 358-134, and he was the Syracuse Athletic Director for 28 years (1937-1964).
Cohen was an All-American, the first Syracuse player to average 20+ points a game in a season, and led the team to the NCAA Elite Eight in 1956-1957.

Bouie was a two time All-American, a standout defensive player who led Syracuse to a 100-18 record in his four years, and part of the famed Louie N' Bouie tandom that rocketed Syracuse up the polls in the early Jim Boeheim years.

Orr was an All-American his senior year, a talented offensive player who played with intelligence on the court. He was the other half of the famed Louie N' Bouie tandom.

Seikaly was an All-American, a standout defensive player whose outstanding play in the 1987 NCAA tournament took Syracuse to the brink of its first tournament championship.

Wallace was a four year starter at Syracuse, carried the team to the National Championship game his senior season in 1995-1996. He graduated Syracuse as the #3 all-time leading scorer and the #3 all-time leader in rebounds, and still holds both distinctions.
It is hard to believe some of these candidates still have not made the OrangeHoops Hall of Fame. But I designed the criteria so that the selection would be very difficult, and only the best of the best would be represented. And what good are rules if you do not follow them?
That was not entirely a rhetorical question for in 2011 I am going to break one of my own rules, and induct two players into the Hall of Fame. And I have to, because you cannot induct one half of the Bouie 'N Louie show without the other. The 2011 inductees are
Roosevelt Bouie
and
Louis Orr
.
Syracuse had a new basketball coach for the 1976-1977 in Jim Boeheim. He had recruited Roosevelt Bouie as an assistant, and sent assistant coach Rick Pitino to recruit Louis Orr. The two players, under Boeheim, would take Syracuse to a new level of consistent success, and establish Syracuse as an Eastern basketball power, eventually leading to the formation of the Big East Conference.
Syracuse would go 26-4, 22-6, 26-4 and 26-4 for an overall record of 100-18 during the Bouie N' Louie era. They would win the inaugural Big East Regular Season championship, and would rise to #2 in the AP polls their senior year.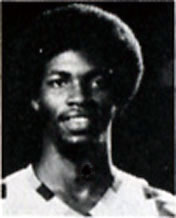 Roosevelt Bouie was a fierce defensive player with tremendous shot blocking skills. He was very athletic and could run the court very well, allowing the Orangemen to thrive in their fast break offense favored by Boeheim. Bouie would graduate from Syracuse as the #2 all-time leading scorer, third in rebounding, and first in blocked shots (since surpassed in all three areas). Bouie would be drafted in the second round of the NBA draft by the Dallas Mavericks. He felt the Maverick's contract was not good enough and kept up on his promise to go and play in Italy. Bouie found that he loved the lifestyle in Italy, the pay was very good, and he never came back to the NBA, having a long and outstanding career in the Italian league.

Louis Orr was a thin rail of a player who was excellent at running the court, and grabbing rebounds. He was a valuable sixth man his freshman season, and scored 9.4 points per game off the bench. He would move into the starting lineup his sophomore season, and continued to improve. Like Bouie, he was named to the Big East First Team its inaugural season 1979-1980. Orr would be drafted in the first round of the 1980 NBA draft by the Indiana Pacers. He would have eight solid, though unspectacular, seasons in the NBA.
Orr would later turn to coaching, and was an assistant coach at Syracuse under Boeheim, along with being the head coach at Providence, Siena, Seton Hall and Bowling Green. In 2002-2003 he would be named the Big East Coach of the Year while at Seton Hall.
Congratulations to that inseparable due, Louis Orr and Roosevelt Bouie.